Implants
A missing tooth can create a distressing gap in an otherwise beautiful smile. That's why Dr. MacLeod is pleased to offer dental implants Sand Springs residents can count on to correct the concern while improving their smiles.
A dental implant is a small, medical-grade titanium post that acts as a new root to support a single new tooth or multiple new teeth. Dental implants are long lasting, and fused to the jaw bone in a manner similar to a tooth. Unlike other tooth replacement options, dental implants can be placed the same day the existing teeth are removed to quickly restore your smile. Your implants are firmly affixed, do not shake loose, and can last a lifetime.
A single tooth dental implant has three parts:
The implant screw
The connecting abutment
The prosthetic tooth crown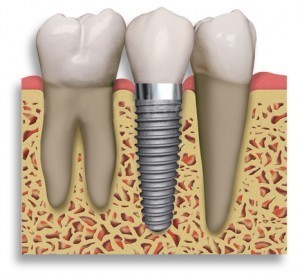 Other tooth replacement options such as conventional bridges and dentures are not fixed to the bone, and can therefore be unstable. This can make it difficult to eat or smile with confidence. Implants not only look more natural, but feel and act more like normal teeth, with a stronger biting force. And because they don't directly rely on neighboring teeth for support, implants don't compromise the health of your natural teeth. In fact, bridges are only expected to last seven to ten years, even less with root canals, whereas implants will typically last a lifetime.
If you have lost a tooth or several teeth, dental implants provide a permanent solution to the problem. Implants give you the ability to eat almost anything and allow you to smile again with confidence. There is simply no reason to endure the difficulties missing teeth can create. To find out more about dental implants at A Better Smile, just contact our office today for an appointment!