Dental Bridges
A long-lasting solution to replacing lost teeth, dental bridges from A Better Smile are an excellent restorative dental option. Dental bridges are made of three or more porcelain crowns fused together to replace missing teeth. Unlike traditional dentures, bridges are permanent and cannot be removed.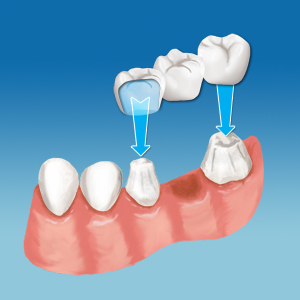 The Dental Bridge Procedure
• First, you are given a local anesthetic to eliminate any pain. The teeth on either side of the missing space are then decreased in size to make space for the bridge.
• An impression of your teeth is taken, so that your dental bridge can be accurately fabricated to fit perfectly.
• You are fitted with a temporary bridge to protect your gums and teeth while the permanent one is being crafted.
• At your next appointment, the temporary bridge is removed and your permanent bridge is cemented.
Advantages of Dental Bridges
• Offer a natural, healthy appearance
• Can be applied in only two office visits
• Are more permanent and secure than traditional dentures, with no sliding or moving
• Help regain natural speaking and chewing ability
• Prevent remaining teeth from drifting out of position
• Colored to perfectly match the shade of your other teeth
If you're feeling self-conscious about your missing teeth, worry no more. A Better Smile in Owasso can help you regain your lost smile today! Call us at 918-245-5800 to see if you're a candidate for dental bridges.